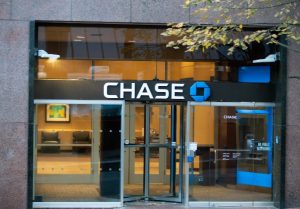 JPMorgan Chase & Co. opened its 34th local branch in Newtown Square on Tuesday and has three more planned for later in the month. That will bring the New York banking giant to 37 Philadelphia-area locations as it nears the halfway point of a five-year plan to open 50 sites in the region.
The bank has also received approval for 11 other locations, including two this week, according to the Office of the Comptroller of the Currency. The bank said it expects to open a total of 13 this year, which would bring it to 46 branches in three years.
Here are the planned March openings:
3604 West Chester Pike in Newtown Square – opened March 2
2900 Island Ave. Suite 2942 (Penrose Plaza) in South Philadelphia – opening March 23
396 W. Lancaster Ave. in Haverford – opening March 23
220 E. Baltimore Ave. in Media – opening March 30
The Penrose Plaza location is considered a low- to moderate-income neighborhood, bringing Chase's total branches in such areas to 10, or 27% of existing locations. When CEO Jamie Dimon visited Philadelphia in September 2018 to announce plansto enter the local retail banking market, Chase committed to locating 20% in LMI neighborhoods. In 2019, Chase upped the stakes by saying it would have 30% of branches in LMI neighborhoods.
The new openings will also give Chase seven locations in Delaware, six in South Jersey and 24 in southeastern Pennsylvania, which include 13 in Philadelphia, four each in Montgomery and Delaware counties and three in Chester County.
Chase has not opened any branches in Bucks County yet but that should change soon, as it has received regulatory approval for sites in Southampton, Doylestown, Warminster and Warrington. Other locations in the works include Port Richmond in Philadelphia; Norristown and Ambler in Montgomery County; Willingboro, Moorestown and Woodbury in South Jersey; and Wilmington in Delaware.
Asked if Chase might wind up exceeding its 50-branch goal since it has moved so quickly, a spokeswoman said she couldn't speculate at this point.
According to annual FDIC deposit data as of June 30, 2020, Chase had yet to make much of a dent in the retail banking competitive landscape. It had 23 branches opened in the region with a combined $553 million in deposits — good enough for just 31st out of 107 banks. That's only $24 million in deposits per branch, less than a quarter of the $100 million that is viewed as a strong number in the banking industry. As a basis of comparison, its branches outside this region average $343 million in deposits per branch. Chase should improve its local numbers as the branches mature but by how much will be telling.
If Chase averaged $100 million in deposits per branches when it reaches 50 branches, that would equal a total of $5 billion in local deposits. That would be good enough for 10th in the region behind Wells Fargo Bank, TD Bank, PNC Bank, Bank of America, Citizens Bank, WSFS Bank, Santander Bank, M&T Bank and Truist Bank. And if it reached its national average of $343 million deposits per branch, it would move up to sixth locally with more than $17 billion in deposits.
Chase has also met another goal of hiring 300 branch employees. The bank already exceeded that figure late last year, as a spokeswoman said the bank was being conservative with its original estimate but it usually hires a minimum of between five and seven employees per branch and spends several months training them before a branch opens.
Chase got off to a fast start in the Philadelphia region, opening 23 local branches in just 15 months before the coronavirus pandemic caused it to hit the pause button in March 2020. It began ramping back up expansion plans in July.
The pandemic has accelerated plans by many banks to consolidate their branch footprints as customers become even more comfortable with online and mobile banking options. In the Philadelphia region, most large banks are focused on trimming their physical footprints. Wells Fargo closed 329 last year and has plans to shutter about 250 more this year. TD Bank recently filed to close 81 of its 1,223 branches, including 11 in this region. PNC closed 160 branches last year and plans to close at least another 120 this year. Citizens Bank closed 51 last year and 40 already this year.
While Chase is growing in new markets such as Philadelphia, Boston, Washington, D.C., and Pittsburgh, it has been pruning its footprint in its more established markets, cutting 258 branches last year and 17 so far in 2021.
*Article courtesy of Philadelphia Business Journal
For more information about Philadelphia retail space for sale or lease in Philadelphia or about any other Philadelphia properties for sale or lease, please contact WCRE at 215-799-6900.
Wolf Commercial Real Estate, a full-service CORFAC International brokerage and advisory firm, is a premier Philadelphia commercial real estate broker that provides a full range of Philadelphia commercial real estate listings and services, property management services, and marketing commercial offices, medical properties, industrial properties, land properties, retail buildings and other Philadelphia commercial properties for buyers, tenants, investors and sellers.
Please visit our websites for a full listing of Philadelphia commercial properties for lease or sale through our Philadelphia commercial real estate brokerage firm.