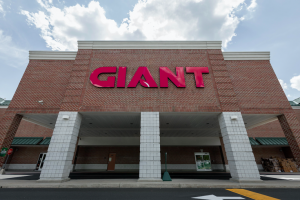 Giant Co. opened its new $27 million, 65,000-square-foot flagship store at Riverwalk, a newly developed apartment complex fronting the Schuylkill River on North 23rd Street in Center City to a crowd of eager and curious shoppers.
For Giant Co., a Carlisle-based company, the two-story location is the culmination of exploring other respected grocers to gather ideas and extensive research into new approaches to operations, layout and design. For Philadelphia, it underscores how far the city has come particularly over the last two decades.
"When I started in the real estate business 40 years ago, this site was available for development," said Ron Caplan, CEO of PMC Property Group, which developed Riverwalk. "They said it would never get developed and the challenge was how to bring life to a part of the city that has never seen development? This site hasn't seen a ratable in 150 years."
Development ideas, some grandiose, have come and gone for the stretch of land totaling roughly four acres that had served surface parking for decades. None came to fruition.
But, the changes that have taken place in the city — its population growth, addition of new apartment buildings, pre-pandemic vibrancy and shift westward — along with historically low interest rates and the 10-year tax abatement all conspired to finally make the location where Riverwalk is being developed viable.
"If you don't have all of the pieces, it's hard to make it work," Caplan said. "It's all timing."
Caplan emphasized that without the 10-year tax abatement, Riverwalk wouldn't have happened. "People are quick to criticize the tax abatement as a subsidy," he said. "It's not a subsidy. It's an economic driver."
As currently written, the abatement gives developers of new construction a break on property taxes for 10 years. That is scheduled to change beginning in 2022 and only provide for the full abatement for the first year of a development and then would be reduced by 10% each subsequent year until the end of the tenth year when it would sunset.
All of the elements Caplan cited also made Giant "a very important piece of the economic model" that made the two-building apartment complex financially work. "All of the pieces came together," he said.
Riverwalk's first building, which has 291 apartments at 60 N. 23rd St., is completed and where Giant is located. A second tower with 321 apartments is under construction next door at 2301 John F. Kennedy Blvd.
"This is the culmination of everything we dreamed," Giant Co. CEO Nicholas Bertram said as he looked across the second floor of the store, which is its main grocery space.
The company had been on an "innovation journey" over the last couple of years, Bertram said. Teams traveled to other grocery stores across the country such as H-E-B, Mariano's and Publix and the Netherlands, where Giant's parent company, Ahold Delhaize, is located to gather ideas to incorporate into the new Philadelphia store. A gelato station was borrowed from Mariano's. An outdoor dining area was taken from H-E-B.
The deck has views of Comcast Technology Center at one end and Cira Centre at the other, a fire pit and outfitted with speakers to accommodate bands and live entertainment.
"I see young couples, kids with their families," Bertram said. "It's so beautiful. I can see someone being proposed here."
Industrial engineers were brought in to determine how some of those ideas could be implemented in the shopping space while keeping merchandise at the forefront and the store efficiently operational. An example of that is the placement of a food hall along one side of the store.
This is the fourth store Giant has opened in Philadelphia. It has three of its smaller Heirloom urban-focused concepts in Center City. This Giant is expected to be a bigger draw than Heirloom and be a shopping destination. "It will be a high-volume store," Bertram said.
While there's an idea how much in sales the store will do those figures aren't exact because of the pandemic, he said.
It also serves as an amenity to those renting an apartment at Riverwalk. A dedicated elevator provides residents direct access to the store.
For the company, its opening is significant in that it does incorporate so many new ideas that will be used in future stores. "It means our growth strategy is working and giving us the freedom to keep on growing," Bertram said. He anticipates opening additional stores in Philadelphia but how many has yet to be determined.
*Article courtesy of Philadelphia Business Journal
For more information about Philadelphia retail space for sale or lease in Philadelphia or about any other Philadelphia properties for sale or lease, please contact WCRE at 215-799-6900.
Wolf Commercial Real Estate, a full-service CORFAC International brokerage and advisory firm, is a premier Philadelphia commercial real estate broker that provides a full range of Philadelphia commercial real estate listings and services, property management services, and marketing commercial offices, medical properties, industrial properties, land properties, retail buildings and other Philadelphia commercial properties for buyers, tenants, investors and sellers.
Please visit our websites for a full listing of Philadelphia commercial properties for lease or sale through our Philadelphia commercial real estate brokerage firm.