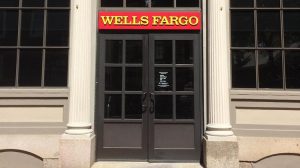 Wells Fargo & Co. has announced plans to close 25 more branches, including two in Philadelphia, as part of its broader plan to cut billions of dollars in costs to keep pace with its rivals.
The impacted branches include 5458 Germantown Ave. in Germantown and 2300 Snyder Ave. in South Philadelphia. They are among a batch of locations San Francisco-based Wells Fargo (NYSE: WFC) filed to close on Feb. 2 with the Office of the Comptroller of the Currency. Other sites are in New Jersey, New York, Virginia, Texas, California, Florida, Minnesota, Alabama, Nevada, Idaho, Georgia and North Carolina.
This is the third batch announced so far this year, following 14 filed on Jan. 1 and 22 on Jan. 27. Wells Fargo closed 329 of its 5,200 branches last year and has plans to shutter about 250 more this year. CEO Charles Scharf told investors in July that the bank needs to shave off at least $10 billion in annual expenses, which amounts to 20% of its annual cost base, to rival efficiency at other banks.
Locally, the region's largest deposit taker closed 13 locations in the Philadelphia area last year as well as another three in the Lehigh Valley and one each in Berks County and the Jersey Shore. All but two came after Scharf's announcement.
Since the FDIC's annual deposit data was recorded last June 30, Wells Fargo has reduced its branch count in the immediate Philadelphia region from 172 to 161. When factoring in the broader region that includes Delaware, the Jersey Shore, the Lehigh Valley and Berks County, the bank has gone for 281 locations to 265.
In addition to those, Wells Fargo filed to close its location at 1 South Broad St. in Philadelphia, but that is not a retail branch. It is home to the bank's private banking operations, which falls under OCC jurisdiction. The reason for the regulatory filing emanates from the bank's plans to relocate 500 employees at 123 South Broad, 1 South Broad and 1500 Market into one regional hub at Two Logan Square. Wells Fargo announced those plans two years ago and there is still no definite date for the move.
A branch and the Wells Fargo History Museum will remain at 123 S. Broad St., along with the public affairs team on the mezzanine level. The space at Two Logan was vacated by Comcast Corp., which moved to its Comcast Technology Center.
Wells Fargo has about 1,000 back office employees at 401 Market St. in Old City and roughly another 500 retail employees scattered across 36 branches in the city. It has more than 6,000 total employees, though there will be job loss among both retail and non-retail employees as part of the company's overarching plan.
When asked last year about potential job loss in the Philadelphia region from the closures, a local Wells Fargo spokesman said he had no specific numbers to share but that "some employees will move to other positions in the company, others may choose to retire, while still others will be displaced. We handle displacements in a way that is as responsive to our employees as possible. We communicate openly and honestly with impacted employees and provide severance, career assistance, and other services to assist them."
The pace of bank branch closings has picked up significantly during the pandemic, as more customers have become comfortable with online and mobile banking platforms. Between annual FDIC reports on June 30, 2019 and June 30, 2020, there were just over 2,642 U.S. bank branch closures and nearly 1,179 new branch openings for a net decline of 1,463 branches. Both the number of closures and the number of new branches are the highest in the last 10 years, and several banks with major Philadelphia-area operations are the most avid consolidators.
TD Bank recently filed to close 81 of its 1,223 branches, including 11 in this region. PNC closed 160 branches last year and plans to close at least another 120 this year.
Local banks have also accelerated the pace of their pruning efforts. Univest Bank said last October that it plans to close eight of its 39 retail branches, or 20% of its footprint, and Fulton Bank recently announced plans to cut 10% of its footprint.
Here is the full list of local branches Wells Fargo has closed since the start of 2020:
260 Exton Square Parkway, Exton
43 E. Main St., Norristown
1131 N. 5th St., Perkasie
8001 Frankford Ave., Philadelphia
399 Bristol Pike, Croydon
599 E. Lancaster Ave., St. David's
75 St. James Place, Ardmore
500 Chesterbrook Blvd., Chesterbrook
25 W. Skippack Pike, Ambler
951 Trenton Road, Fairless Hills
2701 West Chester Pike, Broomall
500 Hurffville-Cross Keys Road, Sewell
451 White Horse Pike, Atco
201 Philadelphia Ave., Egg Harbor City
2002 W. Liberty St., Allentown
335 Main St., Emmaus
1 N. Broadway, Wind Gap
301 W. Main St., Kutztown
*Article courtesy of Philadelphia Business Journal
For more information about Philadelphia retail space for sale or lease in Philadelphia or about any other Philadelphia properties for sale or lease, please contact WCRE at 215-799-6900.
Wolf Commercial Real Estate, a full-service CORFAC International brokerage and advisory firm, is a premier Philadelphia commercial real estate broker that provides a full range of Philadelphia commercial real estate listings and services, property management services, and marketing commercial offices, medical properties, industrial properties, land properties, retail buildings and other Philadelphia commercial properties for buyers, tenants, investors and sellers.
Please visit our websites for a full listing of Philadelphia commercial properties for lease or sale through our Philadelphia commercial real estate brokerage firm.